[Dear Free Dominion visitors: Fuck off. Now go away, or I shall have to taunt you a second time.]



You might have noticed that there's been a real "civility" theme going on here lately, so I thought I might -- in the interest of legitimate and genuine discourse -- ask Canada's wankers their opinion on a specific topic, and that would be this: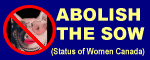 That would, of course, be the adorable way that Blogging Tory (and offensive cunt) SUZANNE refers to the organization "Status of Women Canada", normally abbreviated "SWC" but, thanks to SUZANNE, now known throughout the blogosphere as "SOW" because, well, you know, it's cute. Or clever. Or something.

And yes, that delightful image does get around, as you can see here at SUZANNE's own blog, as well as (like you couldn't guess) here, at the blog of Canada's Dumbest Blogger™, and I'd guess it shows up elsewhere, but I just haven't put in the effort to track down other instances.

And what exactly is the crime of the SWC that it attracted such right-wing enmity? Why, the mandate to support Canadian womens' rights and stuff like that there. The actual story is that Canada's dumbasses were livid that the SWC was being federally funded while engaging in "advocacy", and if said dumbasses wanted to lobby to have that funding cut, well, it's a free country and they certainly have that right.

But that image above -- is that "civil?" Is it really acceptable behaviour to portray your ideological opponents --

en masse

-- as "SOW"s and actual pigs?

So, wanks ... let's hear it. You're always so keen to clutch your pearls and have an absolute case of the vapours at the slightest literary offense. So how does that image above fit into your carefully-cultivated delusion of moral superiority? And please ... no bullshit about "Well, they did it first!". We're not talking about bloggers here -- we're talking about a group whose only sin was to advocate for various fundamental rights for Canadian women and children (and most of whom I'm willing to bet you've never even met, so describing them literally and visually as pigs does seem to be pushing the bounds of decorum, wouldn't you say?).

So ... what's the deal here? Can all of us -- both Left and Right -- agree that SUZANNE is an offensive cunt? Or is this going to be another one of your "Well, yeah, but that's

different

" weaselly evasions, as it always seems to be?

Let the dialogue begin.